Wednesday, July 18th, 2012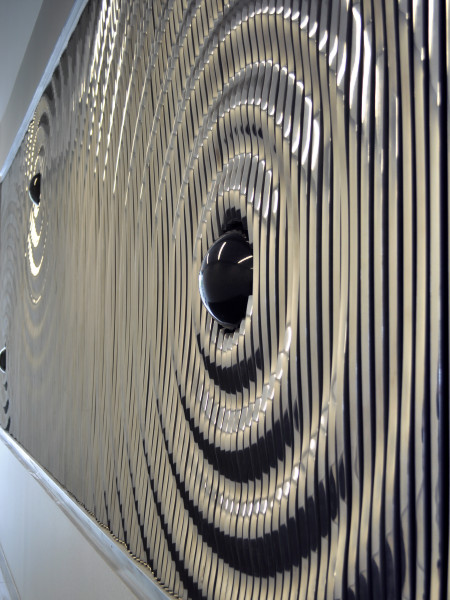 Los Angeles public sculpture 'Ripple' by metal artist Heath Satow honored at the 2012 Americans for the Arts Conference in San Antonio, Texas
LOS ANGELES, July 07, 2012 – Ripple, public artwork by Los Angeles artist Heath Satow, has been named as one of the 50 best public art projects by the 2012 Public Art Network Year in Review by Americans for the Arts (AFTA).
The annual Year in Review program recognizes the most exemplary, innovative, permanent or temporary public art works created or debuted in the past year. The 2012 Year in Review winning artists were chosen from more than 393 works from 147 cities across the U.S. and three countries.
Three independent public art experts—Jean Greer, principal at The Public Art Collaborative; Daniel Mihalyo, architect/artist at Lead Pencil Studio; and Celia Munoz, artist—curated the 2012 Year in Review. The artists and commissioning organizations involved in creating and supporting these public art works received letters of congratulations and certificates from Americans for the Arts.
"By creating a sense of identity of places we inhabit, public art makes an enduring impact on our lives," said Robert L. Lynch, president and CEO of Americans for the Arts. "We congratulate the artists and commissioning groups of the 12th annual Public Art Year in Review and look forward for honoring more great works in the coming years."
Daniel Mihalyo says about Ripple, "It's a straight-forward sculpture in a really confined, narrow hallway space made of aluminum and granite. In the artist's words, "the sculpture becomes an environmentally sensitive water feature, a water wall without the need for water." It is, actually, a really successful interpretation of that effect of dropping on water and executed really nicely. It does seem like a piece that transforms the space successfully. And I think we were all taken by it."
Since 2000, the Public Art Network Year in Review has annually recognized outstanding public art projects through an open call submission and juror selection process. The Year in Review program is the only national award that specifically recognizes public art projects.
Heath Satow is a contemporary art metal sculptor working primarily in stainless steel and has been creating iconic scale public art pieces since 1989.
(Media: please direct requests for high-res print images directly to artist via publicsculpture.com)